Dementia is a group of related symptoms associated with the ongoing decline of the brain and its abilities, specifically impaired intellectual and memory loss. Dementia patients may not be able to think well enough to do day to day activity e.g. getting dressed; eating food etc.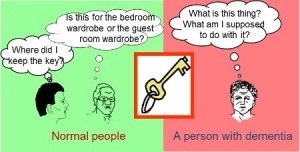 Get help from our expert team of doctors!
Looking for answers, help for the disease? Why not take an expert's opinion? Fill in some of your info below and we will answer all your questions.
IT'S FREE. We will call you back within 48 hours!
We are always here to help you. Just take one step towards Dr. Thind's Homeopathy, we'll offer you the best treatment.
There may be a loss of ability to solve problems, control emotions, mental agitation, delusion, and hallucination. People with dementia can become apathetic or indifferent from socializing and even from family, can't even recognize their own name or identity.
Age / Sex prevalence of Dementia
It is most common in elderly people above 80years. Approximately 7% to 8% of all people over the age of 65 may form dementia.  Others who develop dementia in early age have a family history of dementia or history of trauma or brain injury.
Dementia is classified into
Cortical dementia:
It is characterized where the brain damage primarily affects the brain's outer layer or cortex causing problems with memory, language, thinking and social behavior.
Subcortical dementia: It affects different parts of the brain below the cortex causing changes in emotions and movement in addition to problems with memory.
Progressive dementia: When condition gets worse over time, gradually interfering with more and more cognitive abilities. Common types of progressive dementia are Alzheimer's disease, Lewy body dementia, vascular dementia.
Primary dementia: It is characterized where the cause is not an outcome of any other disease e.g. Alzheimer's disease.
Secondary dementia: It is caused as result or outcome of any physical disease or injury.

Causes of Dementia
• Brain injury
• Family history
• Stress
• Depression
• Endocrine abnormality.
• High blood pressure
• High cholesterol
• Diabetes
• Aging
• Smoking
• Alcoholism
• Drug abuse
• Vitamin B12 deficiency
• Thyroid function test
• Abnormal protein production
• Difficulties in blood flow to brain.
• Subdural hematomas.
• Poisoning.
• Heart and lung problem.
• Anoxia.
• Down syndrome.
• Alzheimer's disease.
• Atherosclerosis.
• Homocysteine blood levels (such as high amino acids etc.)
• High estrogen levels.
• AIDS dementia complex.

Signs and Symptoms of Dementia?
Mild dementia:
• Forgetfulness.
• Losing track of time.
• Lost in familiar places.
• Communication difficulty.
• Emotional fluctuation.
• Difficulty following directions.
• Can't find right words.
• Short-term memory impairment.
Moderate dementia:
• Difficulty in concentration and planning.
• Become lost at home.
•  Delusions and Hallucination.
• Difficulty in communication.
• Need help with personal care.
• Loss of self-recognition.
• Altered sleep patterns.
• Behavior changes.
• Keeps wandering and repeats the question.
• Depression.
• Periods of mental confusion.
• Reasoning and judgment difficulty.
Severe dementia:
• Unaware of time and place.
• Cannot perform even the most basic activities.
• Hallucination.
• Unable to recognizing family and friends.
• Always need someone for self-care.
• Difficulty walking.
• Behavior change with much of aggression.
• Periods of mental confusion.
• Change in personality and mood.
• Difficulty in saying right words.
• Reasoning and judgment difficulty.

How to Investigate Dementia ?
• Complete medical history.
• Complete family history.
• Complete blood count (CBC).
• RFT (Renal function test) and LFT (Liver function test).
• Blood glucose test.
• Physical examination.
• Cognitive and neuropsychological tests.
• Neurological evaluation.
• Brain scans (CT and MRI scans).
• Electroencephalogram (EEG).
• Urine test
• Cerebrospinal fluid analysis.
• Thyroid function test.
• Positive emission tomography (PET).
• Single-photon emission CT (SPECT).

Treatment of Dementia
• Cognitive enhancing agents
• Tranquilizers
• Antidepressants
• Anti-anxiety medications
• Anticonvulsants
• Anti-inflammatory (in case of injuries)

Prognosis of Dementia
Prognosis of dementia varies according to the stages and symptoms may get worse over time.
A person with dementia needs round the clock care and supervision to prevent them from harming themselves or others.

Diet / management of Dementia
• Meditation and yoga help in keeping body relaxed and stress-free.
• Establish daily bedtime routine organize things for next day to reduce anxiety.
• Quit smoking and alcohol.
• Engage patients with physical and social activity.
• Keep their mind active by engaging them in small puzzles, word games, chess, drawing, painting, reading, and writing which help in delay the onset of dementia.
• Speak slowly and stay calm.
• Make home very safe place for a patient as new changes at home can cause hazel for the patient. Keep room setting as it is.
• Don't allow a person with dementia to drive.
• Identify and treat physical illness of patient with severe dementia as they easily harm themselves.
• Provide wristband with all information such as name, address, phone number and doctor in case it's an emergency.
• Manage blood pressure level.
• Maintain a healthy and balanced diet.
• Omega-3 fatty acids reduce risk of heart disease, stroke etc.
• Keep vaccinations chart updated for the patient.
• Keep talking to persons so that they can recognize easily and can break their empathy.
• Join a support group.

Complications of Dementia
• Inadequate nutrition as at some stage person with dementia reduces or stops eating and drinking.
• Loss of muscle coordination.
• Impaired memory.
• Deterioration of emotional health.
• Difficulty communication
• Delirium.
• Insomnia.
• Restless legs syndrome.
• Sleep apnea.

Homeopathic treatment for Dementia
Chamomilla:
• Irritability and anger.
• Cranky, impatient, restless and verbally abusive.
• Extreme anxiety towards unfamiliar or new situations.
• Sensitiveness, irritability, peevishness easily angered.
Lycopodium:
• The great depression of spirits.
• Worried about his salvation, about being able to perform duties.
• Anxious about passing in an examination.
• Fretful, irritable, morose, very vehement and angry.
• Constipation, eructation of sour food.
Mercurius:
• Complete loss of all sense of decency.
• Filthy in body with groveling mentality.
• Weakness of memory.
• Impaired vision.
• Foul breath, heavy coated tongue.
Nux vomica:
• Disposition to find fault with everything and everybody.
• Extreme sensitiveness to the words and attention of others.
• An inclination to kill his best friends.
• Wants to commit suicide but is too cowardly to do so.
• Very irritable, quarrelsome, vindictive.
Phosphorus:
• Reduce memory loss, overcome that fear of death.
• Absent-mindedness, confusion, daydreaming, and anguish.
• Patient feels like their brain is tired and doesn't work properly.
• Dread of death when alone.
• Brain feels tired.
Tarentula Hispania:
• Rages over something and throws whatever is in hand.
• Slight contradiction or objection is not bearable.
• Sudden alternation of moods.
• Sensitive to music.
• Averse to a company but wants someone present.
• Guided by whims.