Churg Strauss syndrome is marked by inflammation of the blood vessels. It occurs in the patient with a history of asthma and allergy.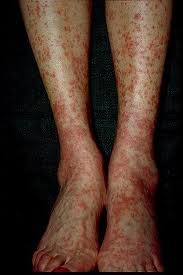 Get help from our expert team of doctors!
Looking for answers, help for the disease? Why not take an expert's opinion? Fill in some of your info below and we will answer all your questions.
IT'S FREE. We will call you back within 48 hours!
We are always here to help you. Just take one step towards Dr. Thind's Homeopathy, we'll offer you the best treatment.
Churg Strauss is marked by three stages –
Allergic stage–
Which is marked by – Asthma, allergic rhinitis (running nose, sneezing) and inflammation of the sinus.
Eosinophilic stage–
An eosinophil is a type of white blood cell that helps your immune system fight certain infections. In Churg-Strauss syndrome, abnormally high numbers of these cells (hypereosinophilia) are found in your blood or tissues.
Vasculitic stage –
Is severe blood vessel inflammation (vasculitis). By narrowing blood vessels, inflammation reduces blood flow to vital organs and tissues throughout your body, including your skin, heart, peripheral nervous system, muscles, bones and digestive tract. A patient may experience – nausea, vomiting, pain, joints pain and swelling, skin rashes.
Age / Sex prevalence of Churg Strauss Syndrome
The disease is rare in children and older adults. It is diagnosed in people between age group 38-52 years of age.

Causes of Churg Strauss Syndrome
The exact cause is unknown, but it involves an abnormal over-activation of the immune system in a person with underlying bronchospastic lung disease (asthma).

What are the indications of Churg Strauss Syndrome?
• Fever, weight loss
• Fatigue
• A cough, shortness of breath
• Pain in chest
• Nodules formation on skin
• Diarrhea
• Enlargement of prostate gland
• Weakness and numbness
• Confusion
• Elevated blood pressure

How to know the Churg Strauss Syndrome?
• Blood examination generally shows elevated levels of an uncommon white blood cell
• Kidney function blood tests
• Urinalysis can be abnormal when the kidneys are affected
• Chest X-ray
• CT scan

Complications of Churg Strauss Syndrome
• Heart diseases ( pericarditis, myocarditis )
• Renal damage
• Skin scarring
• Peripheral nerve damage

What is the treatment of Churg Strauss Syndrome?
Cortisone related medications