Cervicitis is swelling (inflammation) of the end of the uterus (Cervix) .It is a very common condition and more than half of all women may develop ceric in gonorrhea, chlamydia, and Trichomonas vaginalis infections.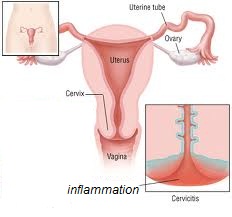 Get help from our expert team of doctors!
Looking for answers, help for the disease? Why not take an expert's opinion? Fill in some of your info below and we will answer all your questions.
IT'S FREE. We will call you back within 48 hours!
We are always here to help you. Just take one step towards Dr. Thind's Homeopathy, we'll offer you the best treatment.
Trichomonas is the most common curable Sexually transmitted infection ( STI )
Worldwide, it is estimated that 400 million STIs occur every year.
Risk factors – young age, low socio-economic status, use of drugs.
Female Of Any Age
Cervicitis can only be present in females. Most common age group of females affected with cervicitis is age younger than 25 years, single marital status.

What Causes Cervicitis?
• Sexually transmitted infections (STIs)
• Herpes virus
• Genital warts
• Chlamydia
• Gonorrhea
• High-risk sexual behavior
• Many sexual partners
• Sex (intercourse) at an early age
• Injury to the cervix from any foreign object
• From birth control devices

Cervicitis Signs and Symptoms
• Vaginal discharge, vaginal bleeding
• Pain in vagina
• Heaviness in pelvis
• Bleeding
• Pain during intercourse
• Burning, itching
• Low back pain
• Spread of infection may lead to nausea , fever

Investigations of Cervicitis
Medical history
A pelvic examination may show:
• Discharge from the cervix
• Redness of the cervix
• Swelling (inflammation) of the walls of the vagina
• Candidiasis
• Pap smear
• Tests for gonorrhea or Chlamydia
• Biopsy
• Colposcopy

Treatment of Cervicitis
Antibiotics are used to treat bacterial infections, such as chlamydia, gonorrhea, and others. Drugs called antivirals may be used to treat herpes infections.
Hormonal therapy may be used in women who have reached menopause (postmenopausal).
When these treatments have not worked or when cervicitis has been present for a long time, treatment may include:
• Cryosurgery (freezing)
• Laser therapy

How To Manage Cervicitis?
• Limiting the sexual contact
• Regular physical examination
• Avoiding chemical irritants
• Avoid multiple sexual partners
• Use safer sex practices
• Avoid smoking ,
• Avoid use of oral contraceptive pills
• Avoid use of perfumes, spermicides, lubricants, tampons.
• Wear cotton underwear and loose clothing
• Pay attention to genital hygiene
• Get adequate sleep
• Eating healthy diet
• Minimizing stress
• Exercise regularly

Prognosis of cervicitis
Spread to the pelvic organs can cause pelvic inflammatory disease, a serious infection that can result in complications including infertility.
If you are pregnant and have cervicitis due to certain STIs, your baby may be infected during delivery.

Is There Any Complication Of Cervicitis?
• Infertility
• PID ( pelvic inflammatory disease )
• Chronic pelvic pain
• Preterm delivery
• Ectopic pregnancy

Differential diagnosis of cervicitis
• Cystitis
• Endometritis
• Ectopic pregnancy
• Candidiasis
• Cervical cancer
• Herpes simplex
• Ovarian cancer
• Salpingitis

Homeopathic treatment for cervicitis
Hydrastis Canadensis –
Erosion and excoriation of cervix. Leucorrhea is acrid , corroding and tenacious . lumbago with emaciation
Borax – 
Pains , pruritus vulva , sensation of distention in clitoris .
Caulophyllum –
Rigidity of os with spasmodic and severe pains, needle like pains in cervix. Pains flying to other parts of body.
Pulsatilla –
Acrid leucorrhea, with burning and pain in back . Intermittent flow.
Chillness, nausea with downward pressure and pain.
Sepia –
Relaxed pelvic organs with bearing down sensation,  violent stitches upward in vagina from uterus to umbilicus .Pain in vagina .