What is Cellulitis? How to manage it? What are the precautions to be taken? What are the signs and symptoms? What is the cause of this disease? How to treat it? How can homeopathy help you? All of this answered, in this post and of course our doctors always there to help you. Just fill in your details in the form down below and we will answer all your questions for FREE!
Get help from our expert team of doctors!
Looking for answers, help for the disease? Why not take an expert's opinion? Fill in some of your info below and we will answer all your questions.
IT'S FREE. We will call you back within 48 hours!
We are always here to help you. Just take one step towards Dr. Thind's Homeopathy, we'll offer you the best treatment.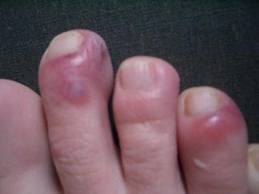 What is cellulitis?
Acute inflammation of the skin is referred to as cellulitis. It is characterized by redness, swelling, warmth, and pain.
The lower leg is the most common site of the infection, followed by the arm, and then the head and neck.
It is not contagious. It is caused by the bacteria Streptococcus and Staphylococcus. It also involves the deeper layer of the skin.
Cellulitis can affect any age group and gender but it is most common in middle-aged and elderly people.
How do you get cellulitis?
The most common bacteria cause cellulitis is beta-hemolytic streptococci (groups A, B, C, G, and F).
Children under 6 years of age get affected by H. flu (Hemophilus influenzae) bacteria on the face, arms, and upper torso.
Cellulitis can occur from a dog or cat bite or scratch. The causative organism is Pasteurella multicide bacteria. It has a short incubation period of only four to 24 hours.
Aeromonas hydrophilia, Vibrio vulnificus, and other bacteria are causes of cellulitis that develops after exposure to freshwater or seawater.
Risk factors: This skin inflammation disease is more common in some situations.
• Dry skin.
• Eczema.
• Previous episode of cellulitis.
• Recent injury or surgery.
• Burns and boils.
• Alcoholism.
• Pregnancy.
• Athlete's foot.
• Diabetes.
• Obesity.
What are the symptoms of Cellulitis?
• Redness of the skin.
• Pain and tenderness.
• Edema (swelling due to fluid in the tissues).
• Skin appears warm to touch.
• The glossy appearance of the skin.
• Blistering.
• Fever and chills.
• Lymph nodes may get swollen.
How dangerous is cellulitis infection?
Cellulitis is a common, serious bacterial skin infection. It occurs when a crack or break in your skin allows bacteria to enter. The infection can spread to your lymph nodes and bloodstream and rapidly become life-threatening if remain untreated.
Can cellulitis go away on its own?
Cellulitis is a relatively common infection of the skin.Mild cellulitis can go away on its own or be treated with antibiotics. It becomes dangerous when the infection continues to spread. If you ignore this condition it may lead to complications.
What are the complications of Cellulitis?
• Inflammation of the heart.
• Inflammation of the lymph vessels.
• Gangrene.
• Bone infection.
• Shock.
• Blood infection.
• Meningitis.

What are the homeopathic medicines indications for cellulitis?
• Belladonna 
• Apis Mellifica
• Rhus Tox 
• Graphites 
For more information, you can visit Cellulitis and HealthLine.
Cellulitis