What is Alport Syndrome? What is meant by Hereditary Nephritis? How to manage it? What are the precautions to be taken? What are the signs and symptoms? What is the cause of this disease? How to treat it? How can homeopathy help you? All of this answered, in this post and of course our doctors always there to help you. Just fill in your details in the form down below and we will answer all your questions for FREE!
Get help from our expert team of doctors!
Looking for answers, help for the disease? Why not take an expert's opinion? Fill in some of your info below and we will answer all your questions.
IT'S FREE. We will call you back within 48 hours!
We are always here to help you. Just take one step towards Dr. Thind's Homeopathy, we'll offer you the best treatment.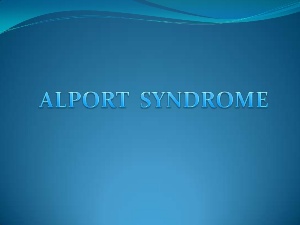 What is Alport's Syndrome?
Alport syndrome is a inherited syndrome which damages the tiny blood vessels in the kidneys . Alport syndrome results from gene mutation affecting type IV collagen (protein which is imporatnt for normal functioning of glomeruli ).
What are the causes of Alport Syndrome?
Alport syndrome is an inherited disorder , caused by gene mutation for protein in connective tissue , named collagen leading to progressive kidney damage.

What are the symptoms of alport syndrome?
Symptom includes:
-Blood in urine
-Pain in flanks
-Loss of hearing
-Swelling around eyes , ankles , feet
-Loss of vision
-hypertension
Is Alport Syndrome fatal?
Alport Syndrome is a fatal disease, it may cause death due to renal failure.
Is Alport Syndrome an autoimmune disease?
Yes, it is an auto-immune disease and its a rare genetic kidney disorder which causes glomerulonephritis.
How to investigate Alport Syndrome?
-Complete patient evaluation
-Complete blood count
-Renal biopsy
-Urinalysis
-Blood urea nitrogen
-Serum creatinine
-Audiometry
What is the treatment of Alport Syndrome?
-There is no specific treatment for Alport syndrome
-Kidney transplantation
-The mail goal of treatment is controlling the disease
-Controlling the blood pressure
-Surgery for repairing cataract
-Genetic counselling
What are the complications of Alport Syndrome?
-Deafness
-Loss of vision
-End stage renal disease
-Chronic kidney disease
Homeopathic treatment for Alport Syndrome?
-apis mellifica
-berberis vulgaris
-colchicum autumnale
-terebinthina
For more information, you can visit NIH and eMedicine.
Alport Syndrome