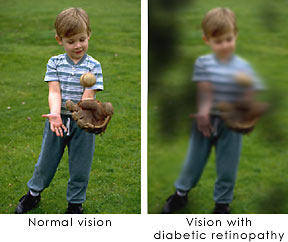 Diabetic retinopathy is defined as the damage to the retina which is caused by the complications of diabetes, which can eventually lead to blindness. It is an ocular manifestation of diabetes, a systemic disease, which affects up to 80 percent of all patients who have had diabetes for 10 years or more.
Diabetic retinopathy is the result of micro vascular retinal changes. Hyperglycemia-induced intramural pericyte death and thickening of the basement membrane lead to incompetence of the vascular walls. These damages change the formation of the blood-retinal barrier and also make the retinal blood vessels become more permeable.
Small blood vessels – such as those in the eye – are especially vulnerable to poor blood sugar (blood glucose) control. An overaccumulation of glucose and/or fructose damages the tiny blood vessels in the retina. During the initial stage, called nonproliferative diabetic retinopathy (NPDR), most people do not notice any change in their vision. Early changes that are reversible and do not threaten central vision are sometimes termed simplex retinopathy or background retinopathy.
Age /sex prevalence of diabetic retinopathy
Diabetic retinopathy develops in the later ages of life of individual who suffer from diabetes from long time.
Both men and women can be affected by diabetes.

Races affected by Diabetic retinopathy
Individuals of any race can suffer from diabetic retinopathy.

Causes of diabetic retinopathy
Risk factors for diabetic retinopathy are as follows
•Duration of diabetes- longer you have diabetes, the risk of developing complications increases.
•Lack of control in levels of sugar.
•High blood pressure.
•High cholesterol.
•Pregnancy.
•Tobacco use.
The major cause of diabetic retinopathy is the excess of sugar in blood. This excess of sugar in blood can lead to damage of the tiny vessels.  This can even lead to complete blockage of the blood vessels.  Due to this blockage of blood vessels the blood supply to retina is cutoff.
This damage to retina can lead to loss of vision. Further new vessels are formed in the eye and the new formed vessel are weak and leak easily, this leakage can further damage the retina. Scar tissue is formed which can lead to pull on the retina. This causes retina to detach.

Sign and symptoms of diabetic retinopathy
Diabetic retinopathy include the following symptoms
•Blurred vision.
•Fluctuating vision.
•Dark or empty areas in your vision.
•Vision loss.
•Difficulty with color perception.
•Spots or dark strings floating in your vision.
Investigations of diabetic retinopathy
Signs to be examined by doctor are as follows
•Presence or absence of a cataract.
•Abnormal blood vessels.
•Growth of new blood vessels and scar tissues.
•Retinal detachment.
•Abnormalities in your optic nerve.
•Swelling, blood or fatty deposits in the retina.
Other investigations to be helpful are as follows
Fluorescein angiography.
Optical coherence tomography.

Treatment for diabetic retinopathy
Treatment steps for diabetic retinopathy
•Glucose control.
•Aspirin therapy.
•Ovine hyaluronidase therapy.
•Bevacizumab therapy.
•Laser photo
Medication treatment given is as follows
•Corticosteroids.
•Monoclonal antibodies.

Differential diagnosis of diabetic retinopathy
•Macroaneurysm.
•Diabetic macular edema.
•Ocular ischemic syndrome.
•Retinopathy, diabetic, nonproliferative.
•Retinopathy, hemoglobinopathies.
•Valsalva retinopathy.
•Sickle cell disease.
•Terson syndrome.
•Central retinal vein occlusion.
•Branch retinal vein occlusion.

Prognosis diabetic retinopathy
Prognostic factors that are favorable for visual loss include the following
•Well-defined leakage.
•Good perifoveal leakage.
•Circinate exudates of recent onset.
Prognostic factors that are unfavorable for visual loss include the following:
•Macular ischemia.
•Cystoids macular edema.
•Preoperative vision of less than 20/200.
•Hypertension.
•Lipid deposition in the fovea.
•Diffuse edema/multiple leaks.
Homoeopathic treatment for diabetic retinopathy
Secale cornutum
•Pupils are dilated.
•Well indicated medicine for inflammation in retina in diabetes.
•Incipient cataract, senile especially in women.
•Eyes sunken and surrounded by a blue margin.
Phosphorus
•Well indicated medicine for retinal damage due to diabetes.
•Degenerative changes where soreness and curved lines are seen in old people.
•Retinal trouble with lights and hallucinations of vision.
•Glaucoma.
•Thrombosis of retinal vessels and degenerative changes in retinal cells.
•Retinal trouble with lights and hallucination of vision.
•Black points seem to float before eyes.
•Patient sees better by shading eyes with hand.