What is hCG? How important is it? Why is the test done? Everything around this, that you should know, in this post and of course our doctors always there to help you. Just fill in your details in the form down below and we will answer all your questions for FREE!
Q1. What is Human chorionic gonadotropin (HCG)?
HCG stands for human chorionic gonadotropin. HCG is a hormone produced during pregnancy. Once you conceive (when the sperm fertilises the egg), the placenta begins to produce and release HCG. It takes about 2 weeks for HCG levels to be high enough to be detected in urine.
Q2. Normal range of Human chorionic gonadotropin level?
HCG is a hormone produced during pregnancy. Its normal values are as follows: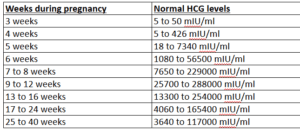 Q3. What HCG level is considered pregnant?
If HCG level is above 25 mIU/ml than it is considered to be pregnant.
If a level of HCG is less than 5.0 mIU/ml, it is considered to be a negative pregnancy test.
Q4. Can HCG be detected if not pregnant?
Yes, HCG may detect if the women is not pregnant in certain conditions:
1) biochemical pregnancy: biochemical pregnancy occurs when a women becomes pregnant yet has a spontaneous loss of foetus.
2) malignancy: cancer cells sometimes make HCG.
3) pituitary HCG: pituitary HCG is commonly detected in women above 55 yrs of age.
Q5. Do HCG levels drop if there is miscarriage?
If HCG level drops during first trimester of pregnancy than its a probable cause of miscarriage.
Q6. How soon can you test for HCG in blood?
HCG can be detected in blood after implantation which occurs about 6 to 12 days after fertilization.
Q7. How long for HCG to be detected in urine?
HCG can be detected in the urine about 10 days after last menstrual period (LMP).
For more information, you can visit Wikipedia and NCBI.
hCG Test