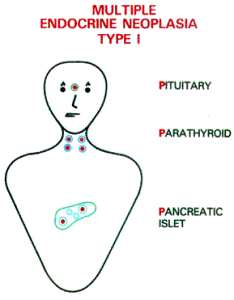 Multiple endocrine neoplasia type 1(MEN Type 1) or Wermer syndrome is a part of a group of disorders that affect the endocrine system through development neoplastic lesions in pituitary, parathyroid gland and pancreas.

Age / Sex prevalance of Wermer Syndrome(MEN Type1)
The male female ratio is approximately equal.
The peak incidence of symptoms in MEN 1 is during the third decade of life in women and during fourth decade of life in men.
Races affecetd by Wermer Syndrome(MEN Type1)
Individuals of any race can be affected by wermer syndrome.
Causes of Wermer Syndrome(MEN Type1)
It is basically a genetic disorder.

Wermer Syndrome(MEN Type1) Signs and Symptoms
• Primary hyperparathyroidism caused by hyperplasia of parathyroid gland is most common manifestation of MEN1  OCCURING IN 90% of all patients.
• Hypercalcemia, nephrolithiasis, and bone abnormalities, Hypertension, loss of appetite, nausea, weakness,fatigue.
• Pancreatic islet cell tumor represents the second most common manifestation of MEN 1 occuring in 30-80% patients.
• Insulinoma  causing hypoglycemia.
• Gastrinoma  causing overproduction of acid in stomach and Zollinger-Elison syndrome.
• Glucagonoma  causing hyperglycemia and a rash called necrolytic migratory erythema, weight loss.
• VIPomas causing watery diarrhea,hypokalemia and achlorhydria.
• GHRHomas causing acromegaly.
• Pituitary gland tumor manifested as Prolactinomas causing amenorrhea, galactorrhea in women, and loss of libido and erectile dysfunction in men
Investigations of Wermer Syndrome(MEN Type1)
Lab testing:
• For gastinomas:
An increased fasting gastrin level and increased basal gastrin acid secretion .
• For insulinomas:
Increased level of plasma insulin with hypoglycemia.
• Glucagonomas:
Elevated serum glucagon with hyperglycemia.
• VIPomas:
Elevated serum levels of vasoactive intestinal polypeptide.
• Pituitary tumors:
Excess growth hormone levels.
• Hyperparathyroidism:
Calcium levels is elevated.
• MRI
•  Genetic testing.
Treatment of Wermer Syndrome(MEN Type1)
Surgery is the choice of treatment.
• Proton pump inhibitor.
• Dopamine agonists.
• Anti hypoglycemic agents
Complications of Wermer Syndrome(MEN Type1)
The major complication of wermer syndrome is it lead to malignant tumor.
Prognosis of Wermer Syndrome(MEN Type1)
Untreated wermer syndrome patients have less life expectancy.,with probability of death at the age of 50 years.
Differential diagnosis of Wermer Syndrome(MEN Type1)
• Achlorhydria
• Adrenal adenomas
• Carcinoid lung tumor
• Duodenal ulcers
• Insulinomas
• Prolactinoma
• Zollinger- Ellison syndrome