What is Urinary Bladder Stones? How to manage it? What are the precautions to be taken? What are the signs and symptoms? What is the cause of this disease? How to treat it? How can homeopathy help you? All of this answered, in this post and of course our doctors always there to help you. Just fill in your details in the form down below and we will answer all your questions for FREE!
Get help from our expert team of doctors!
Looking for answers, help for the disease? Why not take an expert's opinion? Fill in some of your info below and we will answer all your questions.
IT'S FREE. We will call you back within 48 hours!
We are always here to help you. Just take one step towards Dr. Thind's Homeopathy, we'll offer you the best treatment.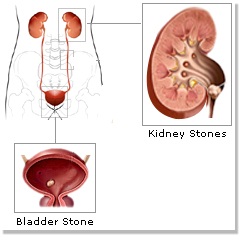 What do we know about Urinary Bladder Stones?
Urinary Bladder stones are made of small masses of minerals, it develops when urine in the bladder becomes concentrated, leads minerals to crystallize in urine.
Who are at higher risk of having Urinary Bladder Stones?
Bladder stones occur more in people of age 30 and older, it is common in children and men.
What are the causes behind the Urinary Bladder Stones?
The most common causes of bladder stones:
• Inability to empty bladder
• An enlarged prostate
• Benign prostatic hyperplasia (BPH)
• Damaged nerves
• Weakened bladder wall
• Bladder Inflammation
• Kidney stones
• Cystocele
• Poor diet
What are Urinary Bladder Stones symptoms?
• Inflammation of Bladder
• Pain while urinating
• Blood in urine
• Urinary blockage
• Lower Abdominal pain
• Difficulty in passing urine
• Urinary tract  infection
• Fever
• The loss in control of urine
• Pain or discomfort in the penis
• Cloudy or dark colored urine
How to investigate Urinary Bladder Stone?
• Physical exam
• Bladder /pelvic x-ray
• Urinalysis
• Urine culture
• Complete blood count
• CT
• MRI
How untreatable Urinary Bladder Stones causes complication?
• Chronic bladder dysfunction
• Urinary tract infections
How to manage Urinary Bladder Stones?
• Kegel exercises
• Certain Herbs
• Cranberry juice
• Lemon juice
• Balanced diet
• Fruits and vegetables
• Avoiding fizzy drinks
• Cut the excessive consumption of salt and sugar
• Drinking plenty of fluids
Homeopathy Treatment
• Berberis vulgaris
• Benzoic acid
• Cantharis  vesicatoria
• Lycopodium
• Sarsaparilla officinalis
For more information, you can visit MayoClinic and MedicalNewsToday.
Urinary Bladder Stones