Urethral stricture is an abnormal narrowing of the tube that carries urine out of the body from the bladder (urethra).
Trauma, infection, tumours, surgeries, or any other cause of scarring may lead to urethral narrowing or stricture.
The urethra is a tube connecting urinary bladder to the genitals for the removal of fluids from the body.
Get help from our expert team of doctors!
Looking for answers, help for the disease? Why not take an expert's opinion? Fill in some of your info below and we will answer all your questions.
IT'S FREE. We will call you back within 48 hours!
We are always here to help you. Just take one step towards Dr. Thind's Homeopathy, we'll offer you the best treatment.
In males, the urethra travels through the penis carrying urine and semen. In females, the urethra is shorter lying above the vaginal opening.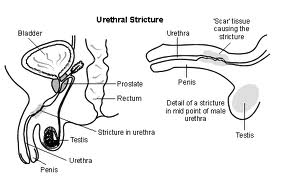 Urethral stricture is narrowing of the urethra can be due to trauma, infection, tumours, surgeries, or any other cause of scarring may lead to urethral narrowing or stricture. Urethral stricture is more common in men and boys.
Age / Sex group affected by Urethral Stricture
Urethral stricture is significantly more common in men and boys compared to women and girls. This condition is considered rare in females.

Causes of Urethral Stricture
• A history of sexually transmitted disease (STD)
• Any instrument inserted into the urethra (such as a catheter or cystoscope)
• Benign prostatic hyperplasia
• Injury or trauma to the pelvic area
• Urethritis
• Cancer
• Rarely congenital malformation
Urethral Stricture Signs and Symptoms
• Urgency in urine
• Blood in semen
• Dark urine
• Decreased urine output
• Discharge from the urethra
• Inability to urinate (urinary retention)
• Painful urination
• Pain in the lower abdomen
• Pelvic pain
• Slow urine stream (may develop suddenly or gradually)
• Spraying of urine stream
• Swelling of the penis
Investigations of Urethral Stricture
• A physical examination may show the following:
• Enlarged or tender lymph nodes in the groin (inguinal) area
• Enlarged prostate
• Hardness (in duration) on the under surface of the penis
• Redness or swelling of the penis
• Tests –
• Cystoscopy
• Urinalysis
• Urine culture
• Prostate examination and screening for prostate cancer
Diet / management of Urethral Stricture
• Avoiding any injury to the urethra and pelvis.
• Acquired structures may be a result of inflammation caused by sexually transmitted infections (STIs).
• Chlamydia is now the more common cause, but strictures caused by this infection may be prevented by avoiding contact with infected individuals or by using condoms.
• Antibiotics treatment
Treatment of Urethral Stricture
• Enlarging the stricture by gradual stretching (dilation)
• Cutting the stricture with a laser or knife through a scope (urethrotomy)
• Surgical removal (excision) of the stricture with reconnection and reconstruction possibly with grafts.
Homeopathic treatment for Urethral Stricture
Every branch of science has its own scope and limitations, so does Homeopathy. Although Homeopathy has a lot of very good remedies for curing & controlling auto-immune disorders, male & female disorders, children and elderly people.
In cases of any emergency situation such as poisoning, serious abdominal complaints (such as acute appendicitis /pancreatitis), fractures, injury, and accidents should be treated first taken to emergency. However, a patient can consult his homoeopathic physician after recovering from his initial phase. Please note Homoeopathy plays no role in treating any nutritional disorders.
The scope of Homeopathy is limited; it is the sole responsibility of the physician to decide upon the cure – by looking into the complete nature of the disease, onset and stage of the disease and then act accordingly.
Clematis erecta
• Tingling in the urethra
• Interrupted flow
• Urethra feels constricted
• Urine emitted drop by drop
• Pain worse at night with pain also along the spermatic cord
Oxalic acid
• Frequent and copious urine
• Burning in urethra
• Urine contains oxalates
Lycopodium
• Pain in back while micturating
• Retention of urine
• Heavy red sediment in urine
• Child crying before urinating
Thuja occidentalis
• Swollen urethra and inflamed
• Severe cutting pains
• Paralysis of sphincter

Urethral Stricture