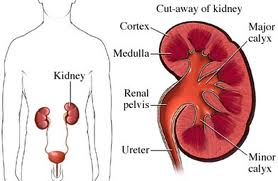 Prerenal azotemia( Uremia )  is an abnormally high level of nitrogen end products of protein and amino acid metabolis  in the blood as a result of kidney failure Azotemia refers to high levels of urea .
Uremia commonly develops with chronic renal failure or may be with acute-renal failure .Since in Uremia failure of kidney to filter nitrogen waste products properly leads to high level of nitrogen wastes in blood .
The chief cause of uremia is kidney damage in case of  – high blood pressure , diabetes mellitus , glomerulonephritis and sometimes due to blockage of urine because of stones .
Causes of Uremia/Prerenal Azotemia
• Damage to the kidney ( due to glomerulonephritis )
• Hypertension
• Diabetes mellitus
• Enlarged prostate
• Blockage of urine due to stone

Uremia/Prerenal Azotemia Signs and Symptoms
Uremia usually develops only after the creatinine clearance falls to less than 10mL/min.
• Nausea
• Vomiting
• Fatigue
• Anorexia
• Weight loss
• Muscle cramps
• Pruritus
• Change in mental status
• Thirst and swelling
• Decreased urine production
• Pain in abdomen

Investigations of Uremia/Prerenal Azotemia
• Absence of urine in bladder
• Low blood pressure
• Rapid heart rate
• Reduced pulse pressure
• Blood creatnine
• BUN
• Urine test

Complications of Uremia/Prerenal Azotemia
• Seizure
• Coma
• Cardiac arrest
• GI bleeding

Differential diagnosis of Uremia/Prerenal Azotemia
• Acute renal failure
• Chronic renal failure
• Diabetic nephropthy
• Acute and chronic Glomerulonephritis
Treatment of Uremia/Prerenal Azotemia
• Hospitalization
• IV fluids
• Medications
• Dialysis
• Dietary changes
Homeopathic treatment for Uremia/Prerenal Azotemia
Lycopodium –
• Polyuria during night
• Heavy red sediment , retention , back pain
• Stool hard, difficult
• Child cries before urinating
Apis mellifica –
• Soreness , burning while urinating
• Incontinence , burning and smarting
• Stinging pain , scanty , high colored urine
• Loaded with casts
Merc sol –
• Frequent urge to urinate
• Greenish discharge from urethra
• Burning, urine – dark , bloody , aluminous