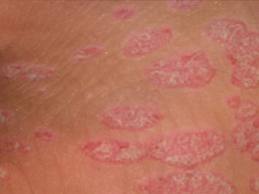 Psoriasis? What is this? What causes this problem? Is it curable? What are the signs and symptoms? How can homeopathy help you? All of this and more answered, in this post and of course our doctors always there to help you. Just fill in your details in the form down below and we will answer all your questions for FREE!
Get help from our expert team of doctors!
Looking for answers, help for the disease? Why not take an expert's opinion? Fill in some of your info below and we will answer all your questions.
IT'S FREE. We will call you back within 48 hours!
We are always here to help you. Just take one step towards Dr. Thind's Homeopathy, we'll offer you the best treatment.
What is psoriasis?
Psoriasis is inflammatory autoimmune disorder of the skin and rarely it also affects joints where it is called psoriatic arthritis.
Sometimes psoriasis associated with many other health conditions like:
-Inflammatory bowel disease.
-Cardiac diseases.
-Psoriatic arthritis.
-Diabetes.
What causes psoriasis?
It is an autoimmune condition. The exact cause of this is unknown. Some factors which are responsible for this. There are:
-Infections, such as throat or skin infections.
-Injury to the skin like:
–Such as a cut or scrape.
–Sunburn etc.
-Stress and anxiety is the major factor.
-Alcohol intake.
-Vitamin D deficiency.
-Patient having a family history. 
-Viral and bacterial infections like recurrent throat infections etc.
-Obesity persons.
-Smoking. 
Who is prone to psoriasis?
-people who have a family history of the disease.
-people who are suffering from infections such as throat infections.
-people who are stressed.
-people who suffer from psoriatic arthritis.
-people who suffer from cardiac diseases.
-people who suffer from high cholesterol.
-people who suffer from anxiety and depression etc.
What are the types of psoriasis?
Some types of psoriasis are:
-Psoriatic arthritis
-Plaque psoriasis
-Guttate psoriasis
-Nail psoriasis
-Pustular psoriasis
-Erythrodermic psoriasis etc.
What is the sign and symptoms of psoriasis?
The common sites for appearance are:
-near elbows,
-knees and 
-middle of the body.
-Red patches appear anywhere on the body.
-Red flakes of skin.
-Itching.
-Skin is itchy.
-Dry skin.
-Skin is inflamed.
-Joint pains
Is Psoriasis dangerous?
Yes, in some types of psoriasis-like pustular and erythrodermic psoriasis are the rarest and the most dangerous. And it depends upon person to person.
How to treat the case of psoriasis?
-Use of ointments.
-In some severe cases, phototherapy or light therapy may advise.
-Oral medicines with injections may also be given due to the severity of the case.
What is the differential diagnosis of psoriasis?
-Adult blepharitis
-Eczema
-Diaper dermatitis
-Allergic contact dermatitis
-Lichen planus
What are the complications of psoriasis?
-Psoriatic arthritis. 
-Eye conditions. 
-Type 2 diabetes. 
-High blood pressure. 
-Cardiovascular diseases.
-Other autoimmune diseases. 
-Celiac disease etc.
Can psoriasis be caused by stress?
Yes, psoriasis can be caused by stress.
What food triggers psoriasis?
-Alcohol and smoking may trigger this condition.
-Recurrent skin infections.
-Spicy food also responsible for this.
Can homeopathic medicines help in this case?
Yes, homeopathic medicines helpful in this case. Some of the homeopathic medicines are:
-Kali Ars
-Sulphur
-Petroleum
-Psorinum
-Tubercuinum
-Ars Iodium
-Graphite
For more information, you can visit psoriasis.org and Wikipedia.
Psoriasis