Kleine–Levin syndrome or sleeping beauty syndrome is a neurological disorder characterized by recurring episodes of excessive amount of sleeping and eating. The onset of an episode starts with drowsiness followed by sleep for most of the days and nights this is known as Hypersomnolence. These episodes may also be associated with behavioral or cognitive disturbance, compulsive eating behavior and in very few cases there may also be hypersexuality.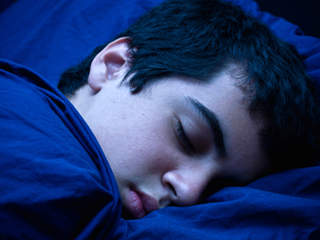 Get help from our expert team of doctors!
Looking for answers, help for the disease? Why not take an expert's opinion? Fill in some of your info below and we will answer all your questions.
IT'S FREE. We will call you back within 48 hours!
We are always here to help you. Just take one step towards Dr. Thind's Homeopathy, we'll offer you the best treatment.
Duration:
Varying from few days to week to 2months
Who Are At Risk?
This disease predominantly affects adolescent males as compare to females in the ratio of 2:1

Causes Of Kleine-Levin Syndrome | Sleeping Beauty Syndrome
Exact causes are not known but few studies suggest following causes:
• Hereditary disorder
• Autoimmune disorder.
• Malfunction of hypothalamus.
• Environmental factors
• Anxiety, stress and depression
• Medications
• Change of time zone

Kleine-Levin Syndrome | Sleeping Beauty Syndrome Signs And Symptoms
• Excessive sleep.
• Excessive food intake.
• Apathy
• Irritability
• Childishness
• Disorientation
• Hallucination
• Abnormal uninhibited sex desire.
• Mood swings
• Depression
• Incoherent speech
• Lack of energy
• Hypersensitivity to noise and light
• Drowsiness
• Walking only to eat
• Lack of emotions

Investigations For Kleine-Levin Syndrome
• Complete case history
• Complete medical history

Treatment For Kleine-Levin Syndrome
• Prophylactic treatment ( anti-depressants, stimulant pills)
• Counseling

Prognosis of Kleine-Levin Syndrome
Prognosis is very good after proper treatment and regular counseling.
Management of Kleine-Levin Syndrome
• Practice yoga and meditation
• Breathing exercise to relax your mind
• Eat a well balanced diet
• Exercise regularly and maintain normal weight for your height.
• Keep yourself busy with activates as much as you can.
• Go for counseling if you suffer depression or anxiety
• Do not overheat yourself in bed.
• Avoid  cigarette smoking
• Avoid alcohol
• Avoid caffeine at night
• Avoid shift work frequent fluctuations
• Do not take much of tranquillsers, sleeping pills etc.
• Do not let person go alone
• Keep talking to them for long time
• Maintain a diary and jolt down all your thoughts on it. It sometimes helps a lot.
• Keep person happy and least worried.

Homeopathic Treatment For Kleine-Levin Syndrome | Sleeping Beauty Syndrome
Avena sativa:
• Nervous exhaustion, general weakness.
• Sleeplessness with nervous exhaustion and weakness.
• Inability to keep the mind fixed on any one subject.
Arnica Montana:
• Good for physical overwork
• Bed feels too hard and uncomfortable
• Jet lag
Humulus lupulus:
• Nervousness and hysteria at bedtime to induce sleep.
• Nervousness, delirium and inflammation produce most soothing effects.
Passiflora incarnata
• Remedy is used for breaking the morphine habit.
• Sleep restless and wakeful, resulting from exhaustion.
• Worse from mental worries, exhaustion.
Opium:
• Heavy sleep with snoring.
• Cannot be roused.