Cheilitis also called chapped lips is the painful inflammation of lips. Continuous licking is one of the reasons. Saliva can not moisturize the skin but increases the risk of infection.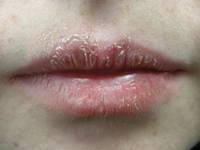 If the infection occurs with Candida Albicans the condition becomes more severe.
Get help from our expert team of doctors!
Looking for answers, help for the disease? Why not take an expert's opinion? Fill in some of your info below and we will answer all your questions.
IT'S FREE. We will call you back within 48 hours!
We are always here to help you. Just take one step towards Dr. Thind's Homeopathy, we'll offer you the best treatment.
Who Are At Higher Risk?
Children and old age people are at more risk as they are more sensitive to extreme temperatures.

Causes
• Constant lip licking
• Lip biting
• Thumb sucking
• Bottle feeding
• Sun exposure
• Weak immune system
• Iron deficiency
• Deficiency of certain vitamin
• Contact allergies by toothpaste or cosmetics
• Cold or warm weather
• High fever
• ill fitting dentures
• Wearing braces

Types
• Angular cheilitis
• Actinic cheilitis
• Granulomatous cheilitis
• Contact cheilitis

Signs and Symptoms
• Dry, cracked lips
• Scaly, crusty bumps on lips
• Lips appear puffy
• Lips become red

Treatment
Treatment of this disease depends on the cause. However, soothing emollient lip balms and sunscreens are usually recommended.

How To Know The Presence Of this disease?
• In Actinic type medical history and biopsy is needed.
• Angular type is diagnosed on the basis of its appearance.
• In Granulomatous type lab test is needed.
• In Contact type of this disease, medical history and patch test of the skin of lips is needed.

Prognosis
Symptoms respond well to medicines.

Complications
Sometimes cracks become inflamed and bleeding starts. Infection can also develop in the cracks.