Chronic inflammation of the bronchial tubes is called asthma. It results in swelling and constriction of the airways.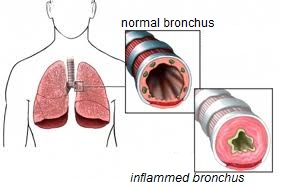 Patient presents with the characteristic symptoms of: shortness of breathe, wheezing, chronic coughing, and chest tightness.
Get help from our expert team of doctors!
Looking for answers, help for the disease? Why not take an expert's opinion? Fill in some of your info below and we will answer all your questions.
IT'S FREE. We will call you back within 48 hours!
We are always here to help you. Just take one step towards Dr. Thind's Homeopathy, we'll offer you the best treatment.
The air we breathe is moistened, heated, and cleansed before passing through the larynx and trachea.Dry or cold air passing through trachea results in coughing and wheezing, it is a normal response.
The air then enters the lungs through bronchi. The bronchi divide within each lung into smaller air tubes called bronchioles.
Inhaled air  enters in alveoli. Oxygen in the air passes from air sacs into the bloodstream through numerous tiny blood vessels called capillaries. Similarly, carbon dioxide is returned to the air sacs and then eliminated on exhalation.
The inner lining of the bronchial tubes, called the bronchial mucosa, contains:
• mucus glands that produce just enough mucus to properly lubricate the airways
• Inflammatory cells, such as eosinophils, lymphocytes, and mast cells.
These structures protect the bronchial mucosa from the microorganisms, allergens, and irritants we inhale.
If there is inflammation in the airway and mucus secretion , there is obstruction in breathing resulting in discomfort. Due to exaggerated reaction of exogenous or endogenous stimuli there is hyperactivity of the airways.
Mortality of Asthma
Mortality rate is decreased due to better treatment available.

Age/Sex of Asthma
Before puberty the boys are at more risk of developing asthma but after puberty risk is more in girls in comparison to boys.

Causes of Asthma
Inflammation in the airways is the major cause of the development of asthma. During an asthma attack the muscles of the airways become tight and swelling of the lining of the air passage occurs hence it reducing the amount of air that enters the lungs.
Common asthma triggers include:
• Dust
• Family history of allergic rhinitis or eczema
• Changes in weather
• Animals dander
• Tobacco smoke
• Chemicals in the air or in food
• Exercise
• Pollen
• Respiratory infections
What Are The Indications That Confirm's The Presence Of Asthma?
• Cough with or without sputum production
• Breathing with lots of effort resulting in pulling of the skin between the ribs
• Shortness of breath that increases with physical activity
• Wheezing: Comes in episodes with symptom-free periods in between and may get worse at night or in early morning, breathing cold air, exercise

Misintrepretation of Asthma with diseases of similar symptoms
• Allergic and Environmental Asthma.
• Airway Foreign Body.
• Bronchiolitis.
• Cystic Fibrosis.
• Pulmonary Embolism.
• Chronic sinusitis.
• Vocal Cord Dysfunction.
• Upper Respiratory Tract Infection.
• Bronchiectasis.
• Chronic Obstructive Pulmonary Disease.
• Churg-Strauss Syndrome.

• Gastroesophageal Reflux Disease.

Investigations for Asthma
• Family and personal history of allergies or eczema
• Stethoscope is placed on the chest to listen for the signs of asthma. There is high pitched whistling sound on exhaling.
• Skin will be checked for urticaria and eczema.
• Nose is examined for nasal polyp, swelling of nasal passage.
• Lung function test

Treatment for Asthma
Asthma attacks should be prevented by avoiding the triggering factors of attack.
In case of emergency following treatment is given:
• Oxygen through face mask or tube through nose.
• Aerosolized beta-agonist medications through a face mask or a nebulizer.
• Dose of IV steroids.

Do's & Don't For Asthma Patient
• Avoiding substances that irritate the airways.
• Use "allergy-proof" casings for bedding to reduce exposure to dust mites.
• Keep the house clean.
• Keep away from animal dander.
• Avoid smoking and also stay away from the person who is smoking near by you.
• Avoid air pollution, industrial dusts, and other irritating fumes.
Diet for Asthma
• Fruits rich in vitamin C e.g. orange, peach, etc.
• Vitamin A containing vegetables and fruits.
• Flavanoid containing food e.g. onion helps in reducing inflammation of airways.
• Coffee is also suggested to reduce inflammation and help open bronchial tubes.
• Vitamin E rich food.

Prognosis of Asthma
With proper treatment the patient is able to lead a healthy life.

Complications of Asthma
• Decreased ability to exercise and take part in other activities
• Death
• Lack of sleep due to aggravation at night time.
• Changes in lung functions.
• Persistent cough.
• Troublesome breathing.

Homeopathic treatment for Asthma
Arsenicum album:
• Worse at night and cold air
• Spasmodic and periodic attack.
• Better bending forward, warm drinks and warmth.
• Sensation of burning in chest.
• Restlessness,  and anxiety.
Kalium carbonicum:
• Better sitting upright, sitting forward, head on table or knees.
• Sensation as if absence of air in chest.
Sambucus nigra:
• Sudden attack around 3 a.m. in the night.
• Child sits up, gasps for breath and turns blue.
• Suffocative attacks.
Natrium sulphuricum:
• Worst in morning between 4 to 5 a.m.
• Violent attacks with cough and copious expectoration.
• Profuse expectoration that is greenish and purulent.
Antimonium tartaricum:
• Accumulation of mucus with coarse rattling and inability to raise it.
• Face pale, or cyanotic.
• Nausea and loathing of food.
Blatta orientalis:

• Asthma associated with bronchitis.
• It suits to fatty people.
• Cough with dyspnoea.
Justicia adhatoda:

• Violent cough with tightness of chest and tough expectoration.
• Vomiting occurs with cough.
Rumex crispus:

• Cough with headache.
• Aggravation from eating or on lying down.
Aralia racemosa:

• Cough with constriction of chest.
• Aggravation from lying down.
• Sensation as if weight on the stomach.
Ailantheus glandulosa:
• Deep dry and hacking cough.
• Cough with congestion of face and headache.
Spongia:
• Dryness of air passage.
• Cough dry, barking and croupy.
• Short, panting and difficult respiration.
• Oppression and heat of chest with sudden weakness.
• Worse cold air with profuse expectoration and suffocation.