What is Adrenal Cancer? How to manage it? What are the precautions to be taken? What are the signs and symptoms? What is the cause of this disease? How to treat it? How can homeopathy help you? All of this answered, in this post and of course our doctors always there to help you. Just fill in your details in the form down below and we will answer all your questions for FREE!
Get help from our expert team of doctors!
Looking for answers, help for the disease? Why not take an expert's opinion? Fill in some of your info below and we will answer all your questions.
IT'S FREE. We will call you back within 48 hours!
We are always here to help you. Just take one step towards Dr. Thind's Homeopathy, we'll offer you the best treatment.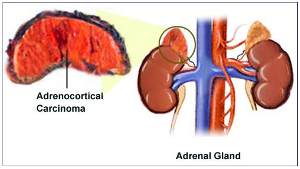 What is an Adrenal cancer?
Adrenal Cancer considered as rare cancer that develops in the small, triangular gland located on the top of kidneys.
Who is more prone to Adrenal cancer?
Males are more prone to have Adrenal Cancer than in females. Female to male ratio is 2.5:3.1.
What are the Different types of Adrenal cancer?
• Adrenocortical carcinoma
• Metastatic adrenal tumors
• Adrenomedullary tumors
• Ganglioneuroblastoma
• Neuroblastoma
• Neuroendocrine carcinoma
• Malignant pheochromocytoma
• Stromal malignancies
• Neurofibrosarcoma
• Angiosarcoma
• Liposarcoma
• Myxosarcoma
• Malignant teratoma
• Fibrosarcoma
• Composite or mixed tumors
How to I know I have an Adrenal Cancer?
• Low potassium level
• Blood sugars high
• Heart palpitations
• Mood swings
• Anxiety
• A headache
• Extreme perspiration
• Diabetes
• Irritability
• Obesity
• Nervousness
• Skin complaints
• High blood pressure
• The weakness of Muscle and bone
• Depression
• Delay growth
How to diagnosed Adrenal Cancer?
• CT scans
• MRI
• Intravenous contrast
• Ultrasonography
• Arteriography
• Fine needle aspiration
• core tissue biopsy
Is there any similar disease with a similar symptom of Adrenal Cancer?
• Neuroblastoma
• Pancreatic cancer
• Renal cell carcinoma
• Adrenal adenoma
What are homeopathy remedies of Adrenal Cancer?
• Calcarea fluorica
• Silicea
• Conium
• Arsenicum
For more information, you can visit HealthLine and cancer.net.
Adrenal Cancer