Your emotional health is one of the keys to keeping the body stay healthy. Every feeling affects some part of your body. While positive emotions such as gratitude have number of beneficial health effects, negative emotions and stress can cause negative impact on the health. Anger can have a destructive effect on your health, That's why it's important to teach yourself how to handle your anger and reduce stress in healthy. Know the health problems due to anger and try to manage it for your well being.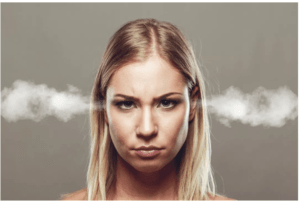 Some of the short and long-term health problems due to anger are:
Here are few ways to manage your anger:
Anger should be managed rather than ignored because it teach us what we want, what we don't want, and what we need to do next.

Calm Your Body.
If you feel out of control, walk away from the situation temporarily, until you cool down.
Recognise the situation.
Accept the moment.
Take the emotions as normal and part of life.
Try to ruleout the exact cause why you feel angry.
Once you have identified the problem, try to find the solutions.
Do something physical, such as going for a run or playing sport.
Try to understand how and why you get angry.
Learn to relax your mind, involve yourself in meditation or yoga.
Try to take counseling from your family and friends.
Exercise regularly.
Health Problems Due To Anger