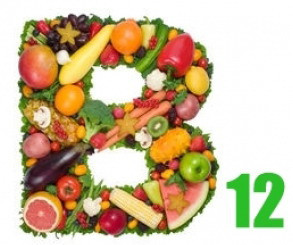 Vitamin B12 commonly known as Cobalamin is vital for the formation of red blood cells, as well as for the proper functioning of the nervous system. Vitamin B12 is a water soluble vitamin. This means it dissolves in water and travels through the bloodstream. The human body does not store cobalamin. Any excess or unwanted amounts are excreted through urine.
Lack of sufficient amount of vitamin B12 in the body cause vitamin B12 deficiency which results in anaemia (pernicious anaemia)  and brain damage.
IMPORTANCE
Vitamin B12 plays a vital role in the normal functioning of the brain and the nervous system and in the formation of red blood cells. It also helps to regulate and synthesise DNA.
It is needed in the metabolism of every cell in the body, and it plays a part in the synthesis of fatty acids and energy production. By helping the human body to absorb folic acid, it facilitates the release of energy.
The human body produces millions of red blood cells every minute, but without vitamin B12, cells cannot multiply properly. The production of red blood cells goes down if a person's vitamin B12 levels are too low. As the red blood cell count drops, anaemia result.
Red blood cells contain the chemical haemoglobin, which carries oxygen from your lungs to the rest of your body, and you need B-12 to produce haemoglobin. If you don't have enough B-12, haemoglobin production tanks, fewer red blood cells are made and you wind up anaemic.
Symptoms you might experience with anaemia include tiredness, weakness, shortness of breath and paleness. Your body uses B-12 to make another chemical called myelin, which protects your brain and nerve cells and speeds nerve signalling. B-12 also helps your body make new tissue and produce energy from protein and fat.
SOURCES
Vitamin B-12 is found naturally in a wide variety of animal foods and is added to some fortified foods. Plant foods have no vitamin B-12 unless they are fortified. You can get recommended amounts of vitamin B-12 by eating a variety of foods including the following:
: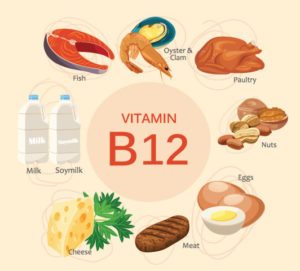 Beef liver is the best source of Vit B12.
Fish, meat, poultry, eggs, milk, and other dairy products, which also contain vitamin B12.
Some breakfast cereals, nutritional yeasts and other food products that are fortified with vitamin B12. To find out if vitamin B12 has been added to a food product, check the product labels.
DIETARY REQUIREMENT
The amount of vitamin B12 you need each day depends on your age. Average daily recommended amounts for different ages are listed below in micrograms (mg):
Life Stage                                                            Recommended Amount
Birth to 6 months                                              0.4 mcg
Infants 7–12 months                                        0.5 mcg
Children 1–3 years                                            0.9 mcg
Children 4–8 years                                            1.2 mcg
Children 9–13 years                                          1.8 mcg
Teens 14–18 years                                            2.4 mcg
Adults                                                                   2.4 mcg
Pregnant teens and women                           2.6 mcg
Breastfeeding teens and women                 2.8 mcg
 INVESTIGATIONS OF VITAMIN B-12
1) The blood test with red blood cell count.
2)  RBC morphology.
3) Bone intrinsic factor antibody levels.
4)  Bone marrow biopsy.
VALUES OF VITAMIN B-12
1) Below 150 pg/mL    =  low
2) 200 to 600 pg/mL   =  normal
3) 800 pg/mL     = high