About The Team
The entire team of doctors is efficient, committed and skilled to handle patients from different age groups, different backgrounds, and with different concerns, issues, illness, and questions.
The team works as a unit, and the support staff ensures proper coordination and communication between doctor's team and the enquiring patients.
All the doctors are a part of online support system for patients in India and outside. They have access to emails to answer the online queries of their patients.
Team Strengths
• Organizing tasks
• Balancing the workload
• Commitment to service and patient satisfaction
• Listening to each and every detail
• Analyzing the case-making detailed notes and case history for future references
Pharmacy Lab: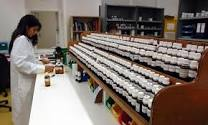 Dr. Thind has a comprehensive pharmacy lab with experienced pharmacist who works full time in preparing the medicines. All research work also happens in this lab.
Dr. Thind's clinic also has a team of sincere para-medical professionals. In addition, he imparts clinical training to fresh graduates.